The Occasions Lady and The Weird Food Holiday Bucket List
The Occasions Lady and The Weird Food Holiday Bucket List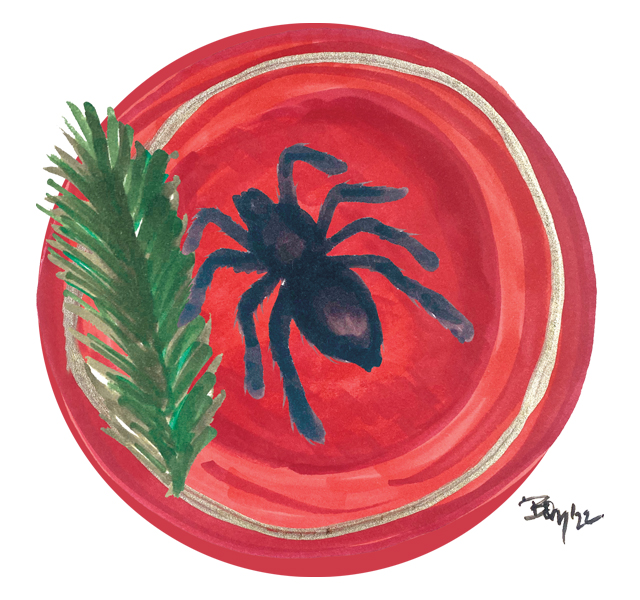 By Audrey Poff, illustration by Brittney Osborn
Like a lot of American families, we enjoy a traditional holiday feast on Christmas with a spiral-glazed ham and all the trimmings, but thanks to my son, Adam, things often go awry after dinner.
It all started a few years ago when our extended family was gathered at my parents' house for dinner, followed by what we call "The Grinch" game, more commonly known as the Dirty Santa gift exchange. Adam was quite pleased with himself for ordering a little after dinner snack that one of us would open as we sat in my parent's living room that Christmas. Although I don't remember who first opened his gift, we were all not-so-pleasantly surprised when we saw what his package contained: a freeze-dried earthworm for human consumption.
What I distinctly remember, however, is that while we were opening the package to divvy up the earthworm, a small piece fell out of the packaging onto the carpet. There, the tiny earthworm morsel was quickly devoured by my parents' Yorkie, who promptly rolled over on her back and started wiggling around. It definitely gave us reason to reconsider what we were about to consume.
The taste was overwhelmingly earthy, which makes sense because dirt is what earthworms eat. Worse than the taste, however, was the texture. It was chewier than I had hoped for, clinging slightly to my teeth as I attempted to chomp down on my share of the worm.
I suppose we thought it was a novelty that would not need repeating, but the following year, Adam delighted us all by putting an edible, dehydrated tarantula into the gift exchange. I considered my choices and opted for a leg. It did not taste great, but I felt like I chose wisely. The leg was mostly dry and crunchy with a few little furry parts that were more difficult to swallow. Collectively, those who were willing choked it down, but there was plenty of gagging going on in the room. I left the meatier portions, like the abdomen, for those who were braver than I.
Last year, we had a reprieve of sorts. Instead of dehydrated critters, Adam surprised us with a carbonated taste adventure: a six-pack variety of Lester's Fixins' most loved soda flavors. It is quite possible that if given the choice, I would opt for the earthworm or tarantula over these sodas.
The six-pack consisted of the following flavors: mustard, dirt, grass, ranch dressing, butter and buffalo wing. So, once again, we took turns trying each disgusting flavor. They are made with pure cane sugar in distinctive colors like mustard yellow and grass green. The flavors are unique and, unfortunately, pretty much spot on but with the addition of sugar.
We have laughed hysterically every year watching each family member's reaction to the taste tests. I don't know if his years in medical school warped him in some way, but no one has more fun than Adam as he leads us down this weird food holiday bucket list.
So, if your Christmas gatherings have gotten a little mundane, maybe it's time to try something more adventurous. A sliver of a tarantula or a sip of buffalo wing-flavored soda might be just what you need to spice up your holiday.
Merry Christmas!