Kicking off the Season with Game Day Brunch
Kicking off the Season with Game Day Brunch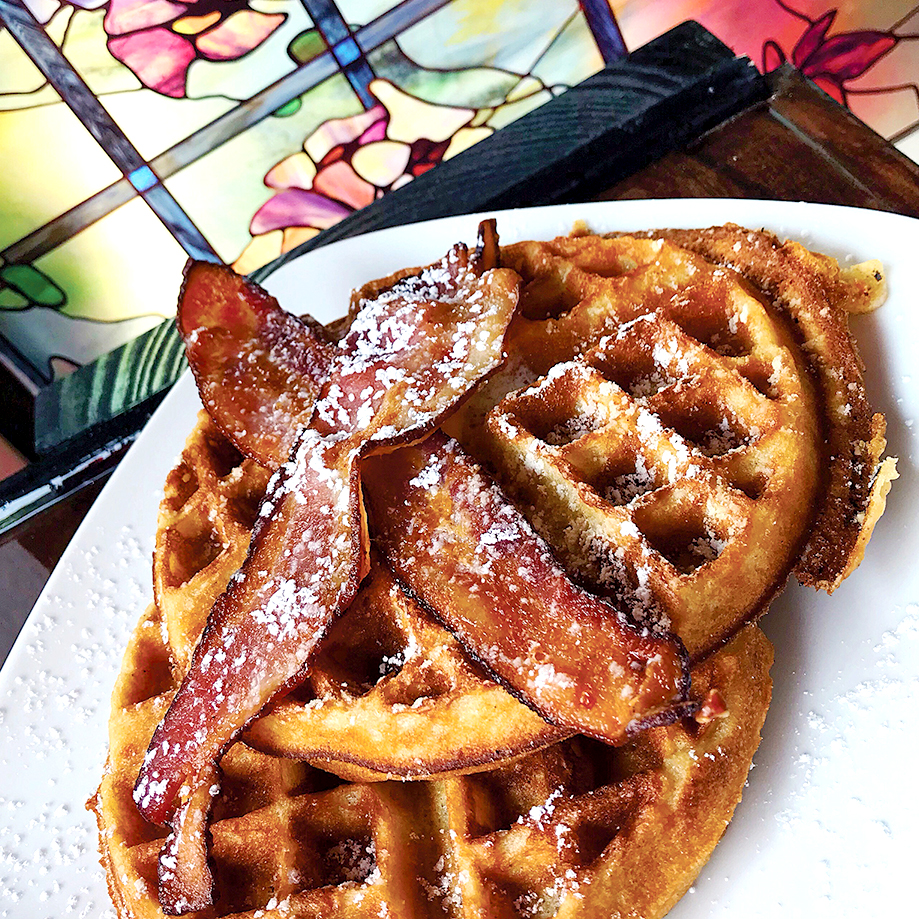 As Arkansas State kicks off football season at home on Sept. 3 with a contest against Grambling State, locally-owned restaurants are hoping to start the celebration early by enticing fans with an array of game day brunch options.
Brunch is a great way to socialize while enjoying the perfect combination of sweet and savory foods. Whether Red Wolves fans choose to indulge before the game or have a final get together on Sunday before everyone heads home, brunch is a great way to extend the fun. For those looking for a little bit of breakfast and a little bit of lunch, more Jonesboro restaurants are getting in the brunch game. From delicious staples of pancakes and giant cinnamon rolls to creative cuisine options like pulled pork benedict and Elvis French toast, there is a brunch in Jonesboro to satisfy anyone's mid-morning cravings.
JTown's Grill
JTown's goes big for brunch. This year, Jonesboro Radio Group's Stafford and Frigo will broadcast live from the restaurant on game days so show up early to join in the celebration. JTown's fans love the French Toast Sammie, with everything breakfast between two pieces of French toast covered in powdered sugar and syrup, or the Elvis, peanut butter, bananas, chocolate chips and bacon sandwiched between two amazingly delicious pancakes. Other crowd-pleasing favorites are the Simple and Southern Combos, the house-made biscuits and gravy with eggs and potatoes. Try a Bloody Hog or get one of the mimosa towers for the table.
JTown's is located conveniently across the street from the A-State campus, with easy access from stadium parking. The staff goes all out on game days, dressing to support the Red Wolves and cheering after every touchdown to get everyone in the mood for football.
Located at 2610 E. Johnson Ave., JTown's is open for brunch Thursday through Saturday from 7 a.m. to 2 p.m. and Sunday from 9 a.m. to 2 p.m.
Native Brew Works
Native Brew Works is Jonesboro's only microbrewery and is the hot new place to have a leisurely brunch with friends. Native strives to cultivate community through unique experiences and by providing handcrafted quality products.
Try a favorite brunch bowl with russet and sweet potatoes topped with pulled pork, black beans, crema, queso fresco, green onion, cilantro and an egg. Other options include breakfast nachos and tacos and biscuits and gravy. Brunch at Native would be incomplete without the Boozy Batch, a hard seltzer with OJ for Native's spin on a mimosa, or a Hazy Man, the Hazy IPA with a splash of OJ.
Kids and dogs are welcome (dogs outside of course), and for those who can't sit still while waiting for their food, there is a ping pong table. There is plenty of seating inside or outside when the weather is nice.
Native is located at 515 South Gee St., and Sunday brunch is served from 10 a.m. to 2 p.m. or until they run out of food.
The Parsonage
Voted Best Brunch eight years in a row, The Parsonage has a very loyal following when it comes to serving up brunch, and with good reason. People come for the monster cinnamon rolls, the to-die-for waffles, the famous cheese grits and the scrumptious biscuits and gravy. The food is obviously the main attraction, but patrons also love the laid-back and welcoming atmosphere of The Parsonage. Many guests enjoy bringing their canine friends for a peaceful brunch on the patio. Owned and operated by Chef John and Ramey Myers, everything on the creative menu is made from scratch with the freshest ingredients.
In addition to the regular menu, there are the occasional specials like breakfast shrimp and grits or half off specials. The Parsonage is now serving Onyx coffees and teas from Onyx Coffee Lab in Northwest Arkansas, another product with a cult following. Coffee aficionados will definitely want to purchase a bag to Onyx coffee to take home.
The Parsonage is located at 305 S. Main Street in Downtown Jonesboro and is open Saturday and Sunday for brunch from 9 a.m. to 2 p.m.
The Recovery Room
Whether diners want to dine in or take it with them, the Recovery Room in Downtown Jonesboro has them covered. The Recovery Room has a full bar with everyone's favorite game day libations to enjoy with brunch, or they can hook A-State fans up with some homemade desserts and pastries to take to their tailgate parties. Diners love the hash brown casserole, farmer's pie and egg and avocado toast, not to mention the special in-house roasted coffee called "What the Dr. Ordered." Desserts and pastries like blueberry scones and chocolate cake donuts are made from treasured family recipes. There are plenty of other menu items to choose from, like waffles, yogurt with fresh fruit and granola or a lavender oat iced latte, so everyone is sure to find a favorite. The friendly staff at this eclectic little bistro located on Main Street makes it a great place to meet friends before the game. Check Facebook for specials like BOGO pastries, and don't forget to grab a bag of coffee to brew at home. The Recovery Room, located at 223 S. Main St., is open Tuesday through Friday starting at 7:30 a.m. and Saturday starting at 9 a.m.
Roots
Roots only offers brunch once or twice a month on Sundays, but when they do, they make it eventful. Roots' menu changes seasonally, so expect the food to be creative, beautifully presented and delicious. In addition to traditional biscuits with the famous Lowe family sausage gravy, diners might find seasonal items like strawberry bruschetta, oysters, Elvis toast – peanut butter, bacon jam and brûléed bananas – or Hot Chicken and Mac. Roots has a full bar offering the best craft cocktails and boozy floats for brunch.
The elegant restaurant is the creation of Chefs Karl and Paula Lowe, who strive to honor their "roots" in Arkansas and Ecuador through the food they offer. Roots brunch is an excellent place to celebrate life's special occasions, even a football win.
Follow Roots on Facebook for up-to-date information on brunch times and menu teasers. Roots is located at 303 S. Main St. in Downtown Jonesboro.
Skinny J's
Skinny J's has been a Jonesboro institution for more than 10 years. A family-owned restaurant, they pride themselves on serving great food and their friendly service. At Skinny's, diners can order off the brunch menu or the regular menu on the weekend, so everyone is sure to find just what they want.
There are the usual eggs and bacon, but most of the brunch menu is more creative, like the Vaccination Burrito with ham, potatoes, tomatoes, jalapeños and cheddar, which is then deep fried, the Belly Thumper, a ham and bacon frittata on potatoes and smothered with gravy, or the Bourbon Berry French toast. Skinny J's has a full bar, and fans say the Bloody Mary is among the best they've ever had.
Weekend brunch is served Saturday and Sunday from 10 a.m. to 2 p.m. Skinny J's is located at 205 S. Main St. in Downtown Jonesboro.
The Social
Recently voted Jonesboro's best new restaurant, The Social is unique among local restaurants in that it offers entertainment in addition to good food. Crowd favorites include the shrimp and grits, avocado toast, chocolate gravy and biscuits and the chicken and waffles. There are plenty of other breakfast options to choose from, like pancakes and egg dishes. And if that's not enough, they also offer coffee and ice cream bars.
The attractive, family-friendly restaurant delivers big on the fun with four bowling lanes where customers can eat while they bowl or eat first, then bowl. There are plenty of other games like shuffleboard, mini golf, checkers, Jenga, etc., that will keep the crowd busy until game time. The Social is located at 1004 Chancery Lane, not far from Centennial Bank Stadium. Brunch is served Saturday and Sunday mornings from 10 a.m. to 2 p.m. There is a full bar with $5 mimosa and Bloody Mary specials during brunch.
Yesdog
Trust Yesdog to come up with some hearty and interesting takes on a brunch menu. This is the place to go when a crowd is hungry and in the mood for something different. Check out the Loaded Grits bowl with shrimp, sausage, onions and bell pepper over cheese grits, the Burger Tater bowl with fried taters, beef patty, onions, tomato and topped with cheese and a fried egg, or the Pulled Pork Benedict, which is pulled pork over a biscuit with hollandaise and BBQ drizzle.
Of course, there is the more traditional fare like pancakes, biscuits and such, but whatever Red Wolves fans order, they probably won't be hungry again until long after the game is over. A Jonesboro original, Yesdog is relaxed and family friendly. The brunch on Saturday is limited from 10 a.m. to 1 p.m., with more extended hours on Sunday from 10 a.m. to 3 p.m. A limited lunch menu is also offered on Sunday for those who aren't feeling like brunch food. There is a full bar service offered both days, so fans can find the perfect accompaniment to their pancakes. Yesdog is located 226 S. Main St. in Downtown Jonesboro.